Dear BE Families,

Registration for after school clubs opens this Wednesday, September 15, at 12:00 PM(noon)! Please review this flyer to see the class offerings. Registration is all online through the Flex Academies website. All classes are eight (8) weeks long.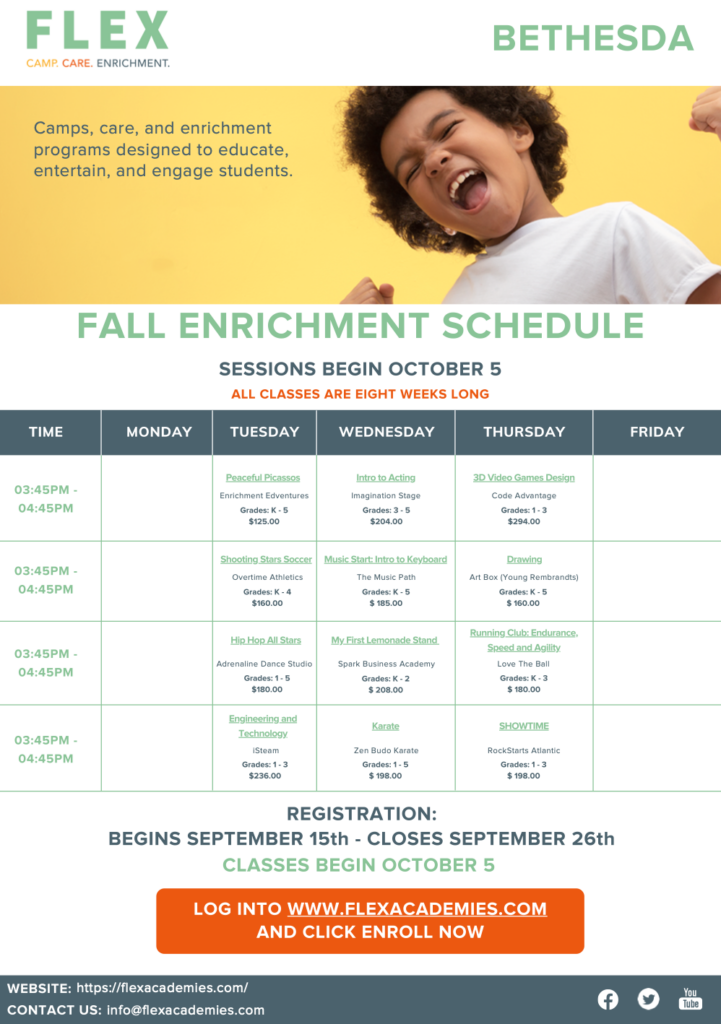 To register, you will need to create an account for your student(s). Step-by-step instructions are provided here.

Key Dates:
September 15: Online Registration and Payment Opens at 12:00 PM noon
September 26: Online Registration CLOSES at 12 PM noon
October 5: First week of clubs (run for 8 weeks)

Club offerings are subject to change (particularly in light of the COVID-19 pandemic). All clubs require a minimum number of students to run. All Montgomery County COVID-19 procedures and policies will be continue to be followed during after school clubs.

HELPFUL TIPS WHEN REGISTERING:
Need-based Scholarships: The PTA awards need-based scholarships for after school enrichments clubs. If you would like to request a scholarship please reach out to Ms. Fried, our school counselor at [email protected].

First-come, First-served: Classes fill up quickly and are on a first-come, first-served basis. Please plan accordingly.
Let your student's homeroom teacher know: Please send a note/email to your student's homeroom teacher alerting him/her of the clubs/days your students are enrolled in. Homeroom teachers receive rosters before the start of clubs, but it helps to confirm and give the teachers a 'heads up'!

Can't register online or do not have access to a credit card? If you do not have access to a credit card or other electronic payment, please contact [email protected] to discuss other payment arrangements. Note that club registration is not confirmed until payment is received.
Finally, the PTA is working with Open Door Sports and hopes to be able to offer at least one special-needs-inclusive sports class for our community. Stay tuned.

We look forward to a fantastic fall session and are excited abut the return of in-person enrichment after more than a year!