Red Ribbon Week is a time for schools and communities across the country to demonstrate a commitment to a healthy and drug-free life. At Bethesda, students will be participating in activities to learn ways to stay healthy. Let's do our part to encourage students to be safe, healthy, and make good choices. Of course the best education about this comes from you, the parents/guardians!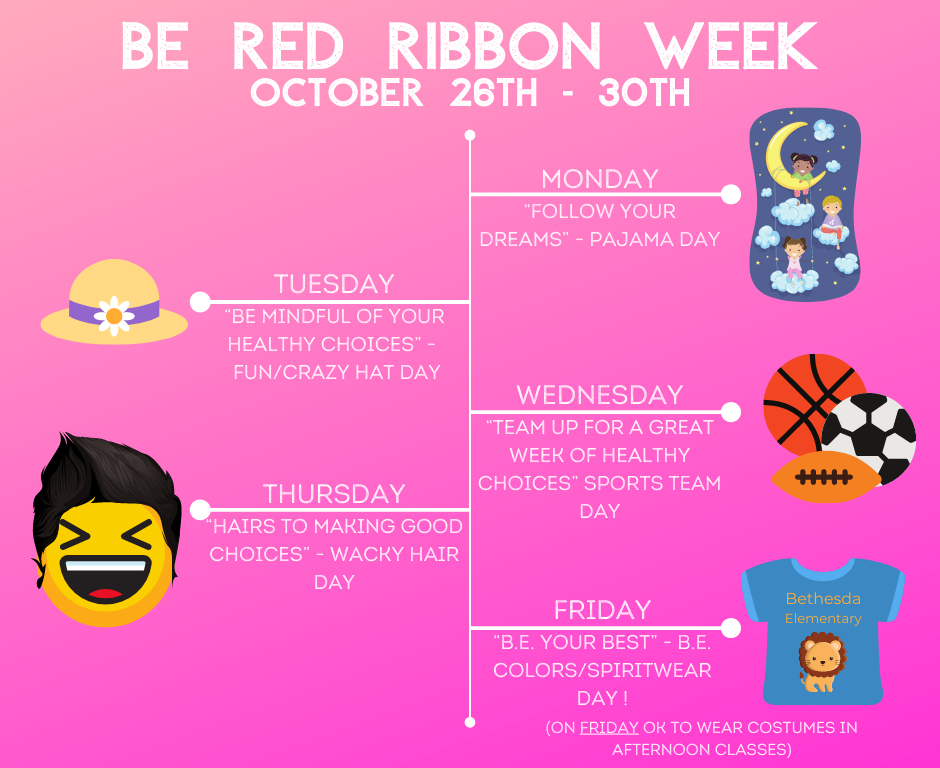 Each day of Red Ribbon Week students and staff will be provided an opportunity to dress up in support of being healthy and making good choices. Here are the dates and theme days for Bethesda Elementary:
Monday 10/26: "Follow Your Dreams" Wear your pajamas to school!
Tuesday 10/27: "Be 'Mindful of Your Healthy Choices " Wear a fun or crazy hat!
Wednesday 10/28: "Team Up for a Great Week of Healthy Choices" Wear your favorite sports team apparel!
Thursday 10/29: "Hairs to Making Good Choices" Wear your hair in a wacky style!
Friday 10/30: "B.E. Your Best" Dress in your ultimate BE Gear or BE Colors! Wear a costume in the afternoon if you like!
Please keep the lines of communication open- the best prevention starts early and starts at home!